The 1st International Head-Out Water Immersion Symposium: Bristol 1989
The 2nd International Head-Out Water Immersion Symposium: Berlin 1992
The 3rd International Head-Out Water Immersion Symposium: Copenhagen 1995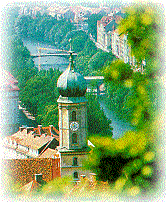 The 4th International
Head-Out Water Immersion Symposium
September 27-28, 1999
>> Links to later HOWI meetings


Scientific Committee:
Karl Kirsch, Berlin, Germany
Claire Lathers, Rockville, MD, USA
Peter Norsk, Copenhagen, Denmark
Paul O'Hare, Rugby, Warwickshire, UK
Robert Robertson, Pittsburgh, PA, USA
Helmut Hinghofer-Szalkay, Graz, Austria
Local organization:
Congress Secretariat:
---
SCIENTIFIC PROGRAM
Session 1: Autonomic Regulation
Chair: P. Norsk, V. Polyakov
DeBold A.J. (Ottawa): Roles of natriuretic peptides in blood volume and pressure regulation
Kramer H.J., Meyer-Lehnert H., Predel H.G., Baecker A. (Bonn / Gifhorn / Koeln): Atrial natriuretic peptide (ANP) release and natriuresis during head-out water immersion (HWI) of healthy subjects are independent of the renal dopaminergic system but are potentiated by nifedipine
Pump B., Kamo T., Gabrielsen A., Norsk P. (Copenhagen / Kanagawa): Comparison of effects of posture change and water immersion on cardiovascular reflexes in humans
Krakowski-Roosen H., Schaechinger H., Hildebrandt W. (Koeln / Basel / Heidelberg): Autonomous cardiovascular control in orthostatic stress after short-term immersion
Loeppky J.A., Riboni K., Maes D., Luther D., Gates L., Roach R., Icenogle M. (Albuquerque / Las Vegas): Comparison of plasma volume changes by Evans blue and endogenous blood/plasma constituents during acute altitude stress
Session 2: Space Flight, Bed Rest and Head-Out Water Immersion: Plasma Volume and Orthostasis
Chair: D. Watenpaugh, Ch. Mukai
Norsk P., Johansen L.B. (Copenhagen): Hemodilution and renal responses to immersion
Pantalos G., Hart S., Mathias J., Sharp M.K., Watenpaugh D., Buckey J., Hargens A. (Salt Lake City / Galveston / Dartmouth / Moffett Field / San Diego): A biomechanical perspective on physiological response to head-out water immersion, 6 deg. head-down tilt, and weightlessness
Mano T. (Nagoya): How the sympathetic nervous system in humans responds to short-term microgravity simulated by head-out water immersion
Lathers C.M., Charles J.B., Mukai Ch. (Houston / Pomona / Tokyo): Space flight, bed rest and water immersion: plasma volume and orthostasis (pres.: Ch. Mukai)
McKeever K.H., Sandler H., Keil L.C. (New Brunswick / Moffett Field): Extracardiac sensing mechanisms associated with induced fluid shifts
Session 3: Autonomic regulation 2
Chair: K. Kirsch, G. Pantalos
Wheelans D.C., Evans P.M.S., O'Callaghan C., O'Hare K., Bennett J., O'Hare J.P. (Coventry): Does suppression of the sympathetic nervous system caused by water immersion affect leptin levels?
Kirsch K., Thorndike K., Boldt L.H., Koralewski B., Johannes B., Gunga H.-C. (Berlin): Heart rate - respiratory rate variabilities and subjective time perception during head-out water immersion (HOWI)
Watenpaugh D.E., Pump B.B., Bie P., Norsk P. (Copenhagen): Does gender influence human responses to water immersion?
Liner M.H., Linnarson D. (Stockholm): Submersion attenuates the urge to breathe during breath holding in humans
Lindholm P., Sundblad P., Oestlund A., Linnarson D. (Stockholm): Oxygen-conserving effects of apnea versus rebreathing in exercising man

Session 4: Clinical aspects
Chair: P. O'Hare, T. Mano
Evans P.M.S., Broughton-Pipkin F., Lightman S.L., O'Hare J.P. (Cardiff / Bristol / Warwick / Nottingham): Role of the renin-aldosterone axis in the circadian sodium homeostasis of diabetic patients with autonomic neuropathy
Gabrielsen A., Sorensen V.B., Pump B., Galatius S., Videbaek R., Bie P., Warberg J., Christensen N.J., Wroblewski H., Kastrup J., Norsk P. (Copenhagen): Blunted peripheral but preserved central cardiovascular and neuroendocrine responsiveness to water immersion in heart failure
Evans P.M.S., Taylor A., Macdonald I.A., Lightman S.L., O'Hare J.P. (Cardiff / Bristol / Warwick / Bath / Nottingham): Do catecholamines have a role in the impaired sodium homeostasis of IDDM patients?
Marosi M., Gerstenbrand F., Kozlovskaya I.B. (Innsbruck / Vienna / Moscow): Contribution of space related research to advances in the field of medicine

Round table: Water immersion and head-down tilt tests in the research field of "endocrinology and aging"
Hinghofer-Szalkay H (Graz), J.E. Greenleaf (Moffett Field), Kirsch K (Berlin), Kozlovskaya I (Moscow), Roessler A (Graz)
Session 5: Seminar on perceived exertion during water immersion ergometry
Robertson R.J. (Pittsburgh)
Session 6: Effects of temperature
Chair: D. Watenpaugh, R. Roberston
Gunga H.-C., Kirsch K.A., Johannes B., Roecker L., Boldt L.-E. (Berlin): The vascular endothelial growth factor (VEGF) during thermoneutral (34.5-35.5.0 deg. C) and warm water immersion (39.0 deg. C)
Jansky L., Simeckova M., Sramek P., Savlikova J. (Prague): Physiological responses due to immersion to water of different temperatures
Hope A., Aanderud L., Aakvaag A. (Bergen): Dehydration during sweating in warm (38 deg. C) fresh and seawater head-out immersion (HOI)
Koska J., Ksinantova L., Zimanova T., Rovensky J., Vigas M., Kvetnansky R. (Bratislava / Piestany): The role of daytime and gender in hormonal response to hyperthermic immersion
Session 7: IMBP Presentations
Chair: B. Pump, I. Kozlovskaya
Shenkman B.S., Cheglova I.A., Larina I.M., Nemirovskaya I.N., Belozerova I.N., Kozlovskaya I.B. (Moscow): Human muscle atrophy and growth hormone levels after exposure to short-term 'dry' water immersion
Polyakov V.V., Lacota N.G. (Moscow): The unload suit immersion
Lacota N.G. (Moscow): The errors of suit immersion as model for microgravity
Larina I.M. (Moscow): Role of the individual heat and water-salt sensibility under suit immersion
Kozlovskaya I.B. (Moscow): Immersion as an on-ground simulation model of sensory-motor effects of weightlessness
---
BOOK OF ABSTRACTS
The Book of Abstracts (30 pp) is available and will be mailed to you upon payment of 10 US-$ (personal check, or bank transfer to our Research Account: IFSSM, #2700-901578, at "Steiermaerkische Bank und Sparkassen AG" - bank code in Austria: 20815
---
>> 5th International Head-Out Water Immersion Symposium: Houston 2002

>> 6th International Head-Out Water Immersion Symposium: Nagoya 2005

>> 7th International Head-Out Water Immersion Symposium: Tartu 2008